Marketing Specialists that work with you to
improve your marketing and sales process.


It's all about the right process to grow your business.
Stop struggling to find the
quick fix or single tactic to grow your business!
You've worked hard to make a living from your business. Struggling for every sale and hoping for more personal time for yourself and being with your family and friends.
We help you and your business reach your goals you require! We help you with the steps to make your successful marketing strategy and guarantee results!
What are the steps to a successful marketing strategy?
Your Message that tells the prospect why you want to do business with me over any other alternative.
Targeting the right "WHO" and the Right Market.
Using the right Direct Response Media to reach your "WHO".
Start thinking like a Entrepreneur/Business Owner and take control.
Creating an Effective Marketing Strategy.
Organize and Maximize the Value of Your Day.
Automate the marketing plan so you have more time to work in your business.
Let us show you how to
Grow Your Business with Guaranteed Results!
Generate All The Leads Your New Business Can Handle
Separate Your Business From Your Competition... And Dominate Your Market
Make Your Business The Obvious Choice When It Comes To Buying What You Sell
Dominate Your Competition Right From The Start
Generate Immediate Cash Flow
Out-Think, Out-Market And Out-Sell Your Competition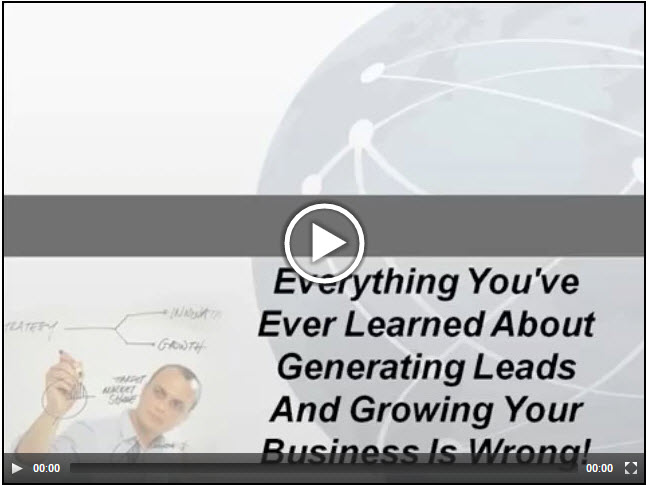 This short presentation will teach you a system for successfully marketing your business ... to a point where it becomes instantly obvious to your prospects that they would be an idiot to do business with anyone other than you... at anytime, anywhere or at any price.

Don't get trapped into thinking that building a successful and profitable business is more luck then skill.
You can dramatically increase your leads and revenue by focusing on just 5 areas within your business.
This growth Calculator will show you the results you can achieve by implementing just a few minor changes in your business.
See What Other People Say About Us!
Joe Norcott leads what represents the next wave of marketing support organizations. He and his team are fluent in the most effective products and systems like ACT and Infusionsoft for your business, and he is also a great marketing strategist helping you figure out just what move to make with the tools that his team implements. These days, as technology becomes more complex and your customers becomes more wary, jaded and overwhelmed, Joe Norcott can be your secret weapon helping you to take your business to the next level. Watch Joe and his team carefully, they make the complex look simple, and the provide rock solid dependable service which is quite a powerful combination.

- Rob Berkley,

Vision Day
I've known Joe since 2002, when I met him and his wife through their active involvement with various organizations. Joe has always impressed me as very knowledgeable and experienced in the products and solutions offered to businesses, and in keeping current with the latest technology. I used his firm to help one of my clients integrate their CRM software with their accounting software. They provided the research necessary and solutions to make this possible. I would highly recommend Joe to help your business streamline and automate your sales and financial processes.

- Frank Mancieri,

GT Growth & Transition Strategies, LLC
Joe and I have worked together for over ten years. I've been his client, he's been my client and we've joined forces as a team on a variety of projects. He is a personable, knowledgeable and reliable professional.

Joe is an expert on the "back room" technology of contact management and the automation of marketing, sales and customer relationship follow up. Not only does he understand the automation process but he has the technical depth to stay abreast of today's rapidly changing technology to ensure his clients develop and tailor a system that gives maximum value for their investment.

If you're having difficulty with the organization and implementation of your sales and marketing programs, you'd be well advised to talk to Joe.

- Norm Brust,

NTB Associates
Recent Posts From
Our Blog
Follow Us On
Social Media
Join us on these social media networks